The Renewed Rise of the Retail Investor
In the first quarter of 2020, more than 1 million new online brokerage accounts were opened, many by bright-eyed retail investors looking to capitalize on COVID-19-related disruption. Clearly, the work-from-home era is supercharging interest in capital markets. But like many new market participants, these young investors are charging ahead, discounting risk while seeking opportunity. Here, we explore the factors driving this trend and the potential market impact of the influx.
Executive Summary
The rush to open brokerage accounts was driven by a confluence of factors tied directly to COVID-19 disruption and policy response.
A growing percentage of daily market volume has been attributed to retail investors, stemming from both growing account numbers and increased trading activity. This volume has partially filled the gap left by declining corporate buybacks during the second quarter of 2020.
A new breed of retail traders is emerging, commonly discarding diversification and exchanging patience for leverage.
Hertz's May Chapter 11 bankruptcy filing put the market influence of retail traders on full display, demonstrating that even worthless securities can be a "buy".
A Perfect Storm of Catalysts
After years of strong returns, the market decline in March looked like a once-in-a-generation entry point for new investors. The most recent bull market was the longest cycle of all time. The S&P 500 Index earned a 17.29% annualized return each year between March 2009 and the cycle peak on February 19, 2020.1 But in Q1, in-demand stocks like Apple were suddenly trading at prices not seen since 2017. Cheaper prices lured a new generation of investors into the market.
Accessing markets have never been easier. Following Robinhood's lead, TD Ameritrade, Charles Schwab and more now offer zero-commission trades. Factional share investing is also commonplace, lowering the entry points of high-flying technology names to that of penny stocks. With cost hurdles removed and brokerage accounts a few taps on a smartphone away, what's stopping more everyday investors from joining the fun?
Uncle Sam even supported new investors. May's $1,200 stimulus provided cash right when they needed it most. According to a SoFi/Centiment Research survey of 2,054 clients, 83% of respondents received government stimulus checks, and half put some of that money into the stock market.2
We believe COVID-induced unemployment and boredom combined with opportunity and access jumpstarted the renewed rise of the retail investor. Nationwide economic shutdowns resulted in 30.8 million initial jobless claims in March and April.3 Months on end in the same space with limited social interaction can get boring, especially after exhausting the Netflix queue. With lockdowns shutting down most professional sports and the gambling that accompanies them, many people were left craving excitement and stimulus. In this environment, many gamblers shifted from sports to stocks looking for quick gains and cheap thrills.4
Those that made the jump over to stocks found entertainment-like platforms. Robinhood and its peers don't exactly feel like banks, and the differences are stark. Account sign-up on these platforms commonly includes free share offerings and cash bonus promotions. Sales of trading data to high-frequency traders instead of traditional commissions/fees drive profitability. This business model demands high levels of activity, easily attained by streamlining and gamifying the order-entry process. Within a few seconds an idea can become a trade, which can be as risky as it is rewarding.
Surge in Retail Activity Helps Fill Buyback Void
The jump in retail brokerage accounts is massive. TD Ameritrade opened 608,000 new accounts in Q1, about three times more than in Q1 2019. E-Trade Financial opened 363,000 new accounts over the same three-month period, dwarfing the 204,000 accounts it opened in all of 2018.5, 6 Robinhood, a fintech trading platform that introduced commission-free online brokerage transactions in 2014, saw their account levels rise to 13 million in May, well above the 10 million reported at year-end 2019.7

Rising account levels only tell part of the story, though. As the number of retail-minded market participants grows, so does their effects on daily trading activity. Citadel Securities estimates that retail investors now account for roughly 20% of daily volume on an average day,8 up from just 10% of the market volume in 2019. On peak days, retail investors account for almost 25% of volume. Bank of America reports similar data, showing that the dollar value of U.S. stocks and ETFs traded by retail investors was up 78% year over year in June. Retail activity funneled through the bank jumped from 11% of weekly value traded to as high as 19% some weeks.9 Many dips in retail activity corresponded with institutional rebalancing dates, but even these depressed levels are higher than in the past.
While institutional investors remain the largest share of trading volumes, the rise of retail has helped to fill the void left by lower corporate buyback activity. Stock buybacks slowed dramatically in Q2 of 2020, totaling $89.7 billion, but down 46% year over year.10 At the same time, Q2 saw equity market inflows at 7x their pre-COVID levels, reaching nearly $3 billion a day and eclipsing the $2.6 billion spent daily on buybacks during the same quarter last year.11 Fund flows, short covering, and hedge fund trading don't fully account for the increase, implying that individual stock purchases are playing a role. As such, it's increasingly important to understand this growing class of investors and their behavioral patterns.
Have Retail Investors Become Day Traders?
Historically, Wall Street thought of the retail investor as the Average Joe, someone with a job outside of the financial industry who saves for retirement or a rainy day. But this definition may be outdated now. The new wave of retail investors cares less about long-term capital appreciation and dollar-cost averaging and more about zeroing in on the hottest stocks of the day.12
When viewed collectively, this new breed of trader exhibits a potentially dangerous combination of characteristics. Frequent trades, lack of diversification and use of leverage are commonplace. Speculation can have its place, but it shouldn't be a core portfolio strategy. In most cases, markets aren't at risk of harm, but these traders' account values are.
Frequent Trading
Any experienced investor knows that the U.S. equity market's long-term annualized return is 7–8%. Over the course of decades, this seemingly modest return does amazing things. Albert Einstein called compound interest the eighth wonder of the world. But some investors aren't willing to wait, choosing instead to expose themselves to large amounts of risk in the hopes of compressing years of returns into just days.
"Buy low, sell high" is a straightforward-enough investment mantra; however, it's much easier said than done. Federal Reserve actions have backstopped the market and buoyed asset prices. Discounting this fact can lead to concerning behavior. Many have forgotten that markets can fall and tend to do so at a much faster clip than they rise. Today, we're seeing retail investors buying assets because they expect to sell them for a higher price in the very short term.
E-Trade found that half of investors under the age of 30 check their account performance daily, a behavior seen to a lesser degree in other demographics.13 While this seems like an innocent habit, in practice, these investors tend to overreact to short-term movements and daily news, placing trades at inopportune times.14 Over a long enough time scale, small mistakes add up. A Fidelity audit found that accounts with the best returns between 2003 and 2013 belonged to investors who seemingly forgot their accounts existed and left them inactive for the period.15
What Happened to Diversification?
Chasing returns often results in high-risk and high-reward portfolio designs. Forget mean-variance optimal, many retail portfolios don't even show naïve diversification. Retail investors often make the mistake of concentrating their holdings in a select group of names with massive growth potential or holding large numbers of securities from the same industry or sector. Despite lessening some idiosyncratic risk, industry- and sector-specific risks persist. According to modern portfolio theory, these risks remain uncompensated, thus failing to diversify them away weakens chances of success.
Return chasing behavior also misses correlation, the third tenant of portfolio design after risk and return. A portfolio whose components all trend together will see higher levels of volatility on the up and downside. In upward trending markets, some may cry "no harm no foul." But when the market winds change, they'll likely sing a different tune. Security selection behavior of this cohort also differs from general expectations and standard benchmarks. Bank of America data shows that Robinhood investors skew their portfolios towards small-cap stocks, allocating 11% more on average than BofA clients and 17% less to large caps. On peak days, retail accounted for approximately 30% of dollar value traded in some small-cap names.16
Overweighting size factor can contribute to outsized returns. Just ask Nobel laureates Eugene Fama and Kenneth French, whose famous three-factor asset pricing model added size and value risk factors to classical market risk. But outsized returns come from assuming additional risk, a consideration that often goes unappreciated. Seen through a sector lens over the first six months of 2020, Robinhood investors bias towards Consumer Discretionary (12%) and Technology (4%) names, while leaning away from Financials (-14%) when compared to BofA clients.17 Retail investors also focused on the best/worst performing stocks, resulting in concentration in sectors most (Energy/Industrials/Cons. Disc.), and least (Tech/Healthcare) affected by COVID.18 This barbell like approach, while avoiding more defensive plays, again targeted higher return potential.
Use of Leverage
A growing trend within the retail community is the use of leverage to enhance returns. A Yahoo Finance/Harris poll found that 43% of respondents have used margin, options or both since the beginning of the pandemic.19 Traditionally, investors use margin to enhance the returns of small-gain strategies. But it seems that many inexperienced traders today want to supercharge already highly volatile portfolios, bringing them closer to the gains they desire.
At large broker dealers, option and margin access require approval. To encourage responsible use, brokers require their clients to demonstrate ability and knowledge on certain investment products and strategies. Clients are regularly denied access to margin and options strategies due to their inexperience. This wasn't the case with Robinhood, where higher-level options access originally required a high risk tolerance profile and a certain number of options trades entered on the platform.20 This progression-based system encouraged traders to increase their options activity while potentially overlooking the education component necessary for responsible use. The firm has since updated their options offering, increasing eligibility requirements and educational content.21
Investing can seem easy for the uninitiated when the market's surging. This makes sense when all you've seen is a strong bull market, punctuated by quick pullbacks, over the last decade or so. In this environment, mistaking luck for skill is easy. Remember, even the pros struggle to beat their benchmarks. Dimensional Funds compiled the returns for 4,576 U.S.-based mutual funds and found that just 23% beat their benchmarks over a 20-year period.22
Market Effects of Retail's Rise
Scores of new investors opened accounts in Q1. Trading volumes hit nearly 270 million shares, more than double the activity in Q1 2019. Activity levels continued to grow in Q2, with trading volume across the major banks reportedly jumping another 28%.23 Historically, buying dips like this is an effective entry strategy. In some situations, price dislocation yielded attractive entry points when compared to intrinsic value. In others, greed outweighed fear. This mentality combined with herding behavior common in the retail space manifests at scale in momentum-based trading of select stocks. Names coming into "retail vogue" can see sizable price appreciation.
Car rental company Hertz is a textbook example. After Hertz declared bankruptcy (Chapter 11) in May, Robinhood traders loaded up on shares, apparently seeing value in a used car company with negative equity. It's reasonable to assume that these weren't distressed investing experts looking to pick the last shreds of meat from a struggling corporate's bones. Instead, novice traders saw a cheap stock with a name that they recognized and looked to profit when the share price started to rise.24
Hertz tried to cash in on this interest, seeking to sell a billion dollars' worth of new shares that the offering prospectus indicated were "worthless".25 The transaction never went through. Still, following news of the potential deal, Hertz stock jumped over 69% as more than 20,000 Robinhood traders lapped up shares.26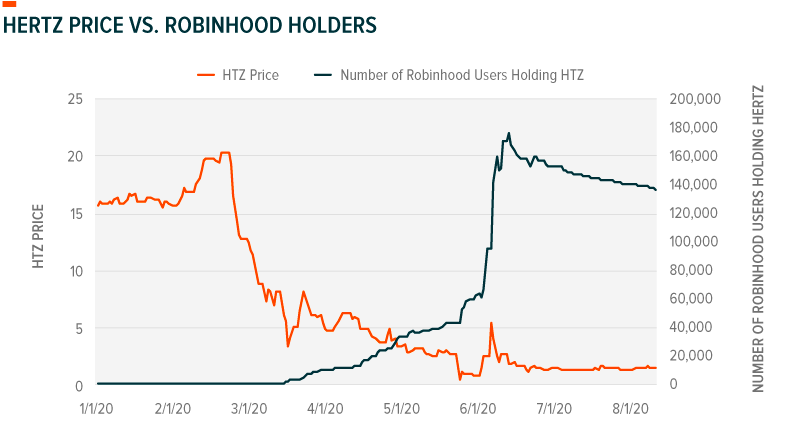 In Summary
At the end of the day, long term capital appreciation remains the goal of most young investors. The road is long and tends to benefit the patient over the aggressive. In rising markets, targeting short-term gains can be all too appealing, especially for novice market participants who have a limited understanding of the risks they are exposed to. Such naïveté combined with the potential for large losses in these volatile markets is a recipe for trouble. Once the euphoria passes, this behavior can scare away investors, as seen following the Dotcom Crash and the Great Financial Crisis.
Worst of all, wanton risk seeking can cause investors to miss out on the benefits of a well-balanced, diversified portfolio designed for lasting financial health through all types of market scenarios. Consistently hitting singles and doubles across various market environments drives capital appreciation, while swinging for home runs commonly results in strike outs and losses. By speculating on hot stocks, one trades patience for risk, not return, and creates bad habits that lower the probability of long-term success.