Inflation and Portfolio Positioning
Unlike prior economic crises, there is the potential for inflation during the current economic recovery. Supply chain constraints and the potential for higher demand may result in a combination of both demand-pull and cost-push inflation during 2021. Improved economic growth expectations have pushed inflation into the limelight while having significant impacts on markets and portfolio positioning. While the reopening trade initially spurred a shift from large caps to small caps, recently we've seen a more focused shift from growth to value. We expect periods of volatility as the market navigates the transition from a structural period of deflation to inflation.
What Does Higher Inflation Mean for Portfolios?
Fixed Income Likely to Struggle:
Increased inflation expectations have major implications for both equity and fixed income. If the bond market expects higher inflation, it demands higher yields to compensate for the inflation risk. Also, the sooner inflation expectations become reality, the sooner the Federal Reserve is likely to become less supportive. Both factors contribute to increased long-term Treasury yields. As a result, "risk-free Treasuries" appear riskier, especially those with longer maturities.1
Bonds have an inverse relationship with yields. Higher market yields reduce the value of bonds in the market, as new par value issuances are likely to be sold with a higher coupon due to the increase in market yields.
The relationship between equities and yields is more mixed.
A higher discount rate should reduce the valuations that investors are willing to pay, all else being equal. However, inflation typically reflects a stronger economy with more demand. These are factors that are generally positive for equities, especially the more cyclical segments of the market.
Conversely, if short-term supply constraints drive expectations for higher inflation, or structural factors like weak Treasury demand drive yields higher, the equity market will likely experience a negative impact of higher yields without the economic benefits.
Despite the recent move up in Treasury yields, the earnings yield on the S&P 500 Index remains well in excess of the 10-Year Treasury Yield. Currently, we believe that equities remain favorable relative to fixed income. However, this view is likely to change if the 10-year Treasury yield moves in excess of 2.5%.
From March 5–11, Bank of America conducted a survey on fund managers with more than $597 billion in assets. According to this survey, the 10-year Treasury yield increasing above 2% from its current reading of 1.74%,2 may trigger a 10% correction in the S&P 500 Index. Similarly, the survey viewed 2.5% as the critical point at which fixed income becomes more attractive than equities.3
While Treasury yields remain a long way off these levels, the market is likely to continue monitoring inflation and supply and demand dynamics in the Treasury market for any signs of concern. This environment places greater focus on any updated language coming out of the Federal Reserve.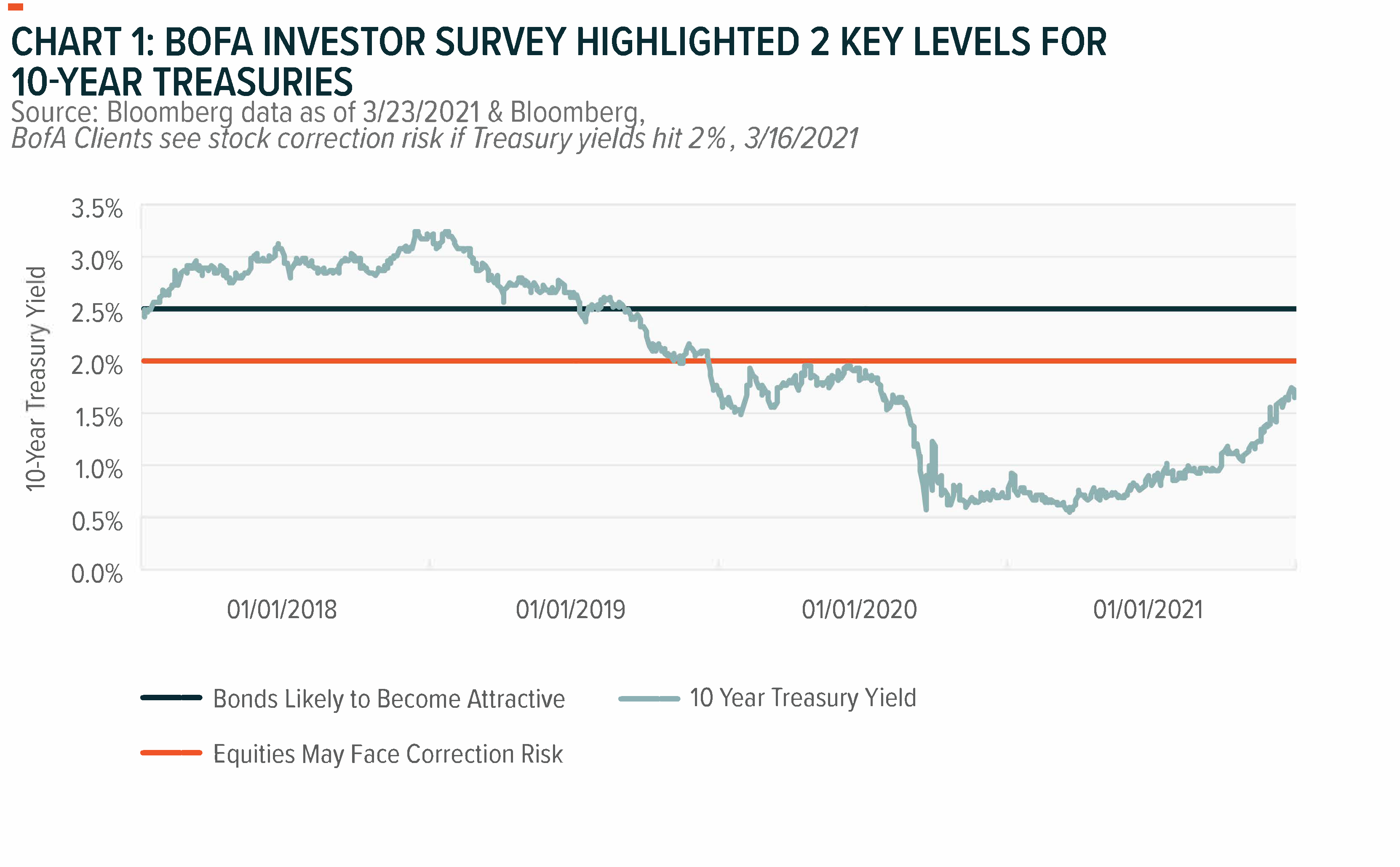 Market Positioning for Reflation:
The Fed is projecting GDP to increase 6.5% in 20214 and analysts have been revising up their economic growth projections. Improved economic growth prospects create a dilemma for investors that may result in a greater focus on valuations. Chart 2 illustrates the rapid shift that the market has experienced between large-cap tech and small-caps since 2000. We believe that value is likely to outpace growth in the near term. This reopening trade is likely to favor market segments that benefit from higher economic growth and inflation expectations, particularly commodities, value-focused and cyclical. Table 1 provides more detail on these key areas.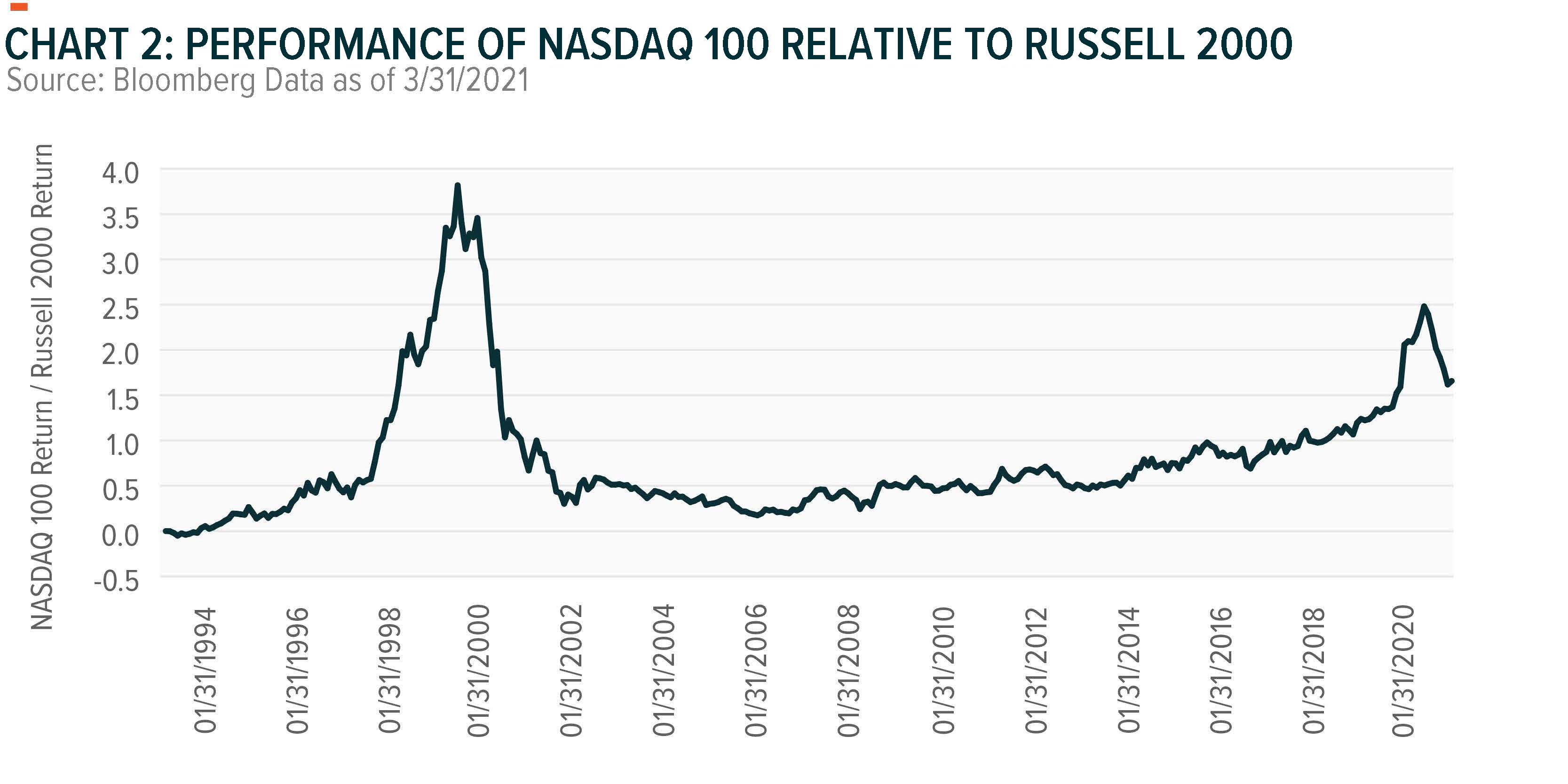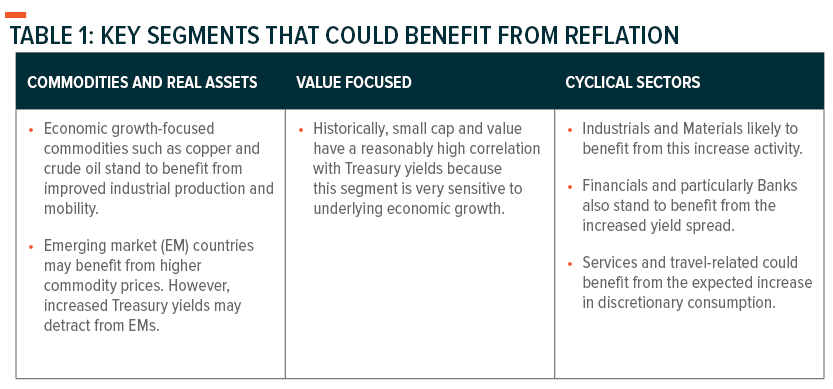 Supply and Demand Dynamics Driving Short-Term Inflation Bump
Inflation driven by increased demand is known as demand pull inflation. Table 2 shows that increased demand results in the demand curve shifting to the right. Unless this demand for more goods and services is met by increased supply, prices are likely to rise. Pockets of inflation may emerge due to a sudden increase in demand while the supply side continues to ramp up.
COVID-19 has had a major impact on global supply chains, many of which are still normalizing. Higher production costs for manufacturers, due in part to higher raw material and commodity prices, are likely to be passed onto consumers.5
As such, demand-pull and cost-push inflation are possible in the near term. Bank of America estimates that Consumer Price Inflation (CPI) could increase to the 3–4% range by mid-year,6 while the Federal Reserve's median forecast is for inflation to end 2021 around 2.4%.7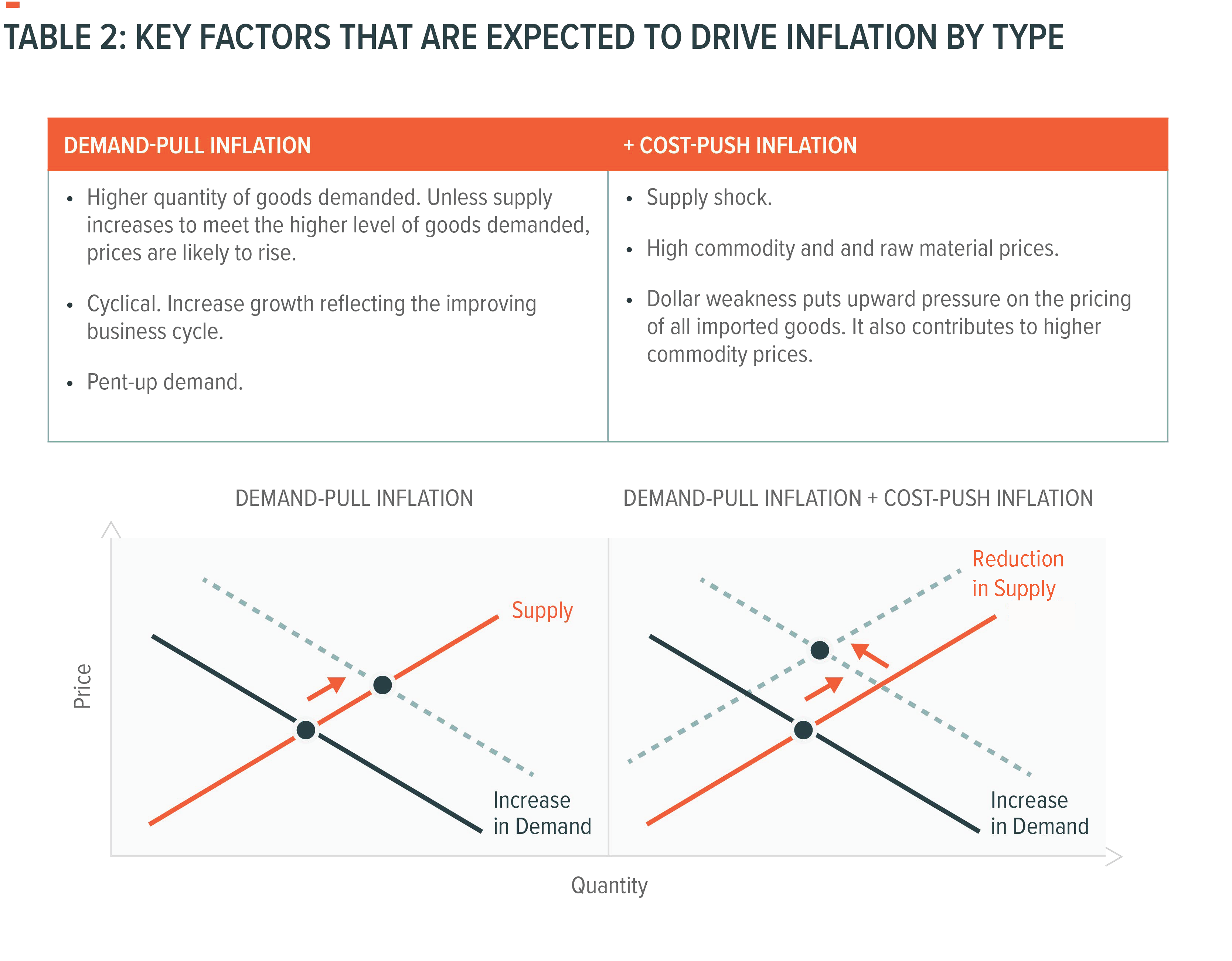 Value for the Short Run Probable but Growth and Thematic Remain Essential
During this potential burst of inflation, we believe that positioning for the relation trade is likely to be beneficial, but longer-term, the structural trends that are disrupting the market are expected to remain essential. This is particularly true for themes that are part of the trend towards a more reflationary environment. Robotics & AI are essential for companies consider reshoring some or all of their production while striving to remain competitive. Similarly, while manufacturing may be reshored, Cloud Computing has created the potential for further outsourcing and globalization. This may create an environment where there could continue to be some deflationary pressures despite the longer-term trend towards higher prices.
As the market looks for the next big thing to support market sentiment, progress on the infrastructure deal may come back into focus. On March 31, 2021, the Biden Administration announced the $2 trillion American Jobs Plan. This infrastructure plan reflects the key areas of the economy that could receive investment over the next decade. It includes areas from physical infrastructure all the way to digital infrastructure. While this bill has a long road to being signed into law, it has the potential to shift some attention to CleanTech and growthier segments of the market. As such, as we move from the reflation trade into the next phase of the reopening, there is the potential that markets are more balanced between growth and values. However, improved underlying economic growth prospects are likely to keep a greater focus on valuations in the near term.
Conclusion
Inflation and improved economic growth expectations are driving financial markets. Since the start of the year, 10-year Treasury yields have increased from 0.93% to 1.74%.8 This rapid increase in yields detracted from fixed income markets while shaping the segments of the market that are likely to perform well. Cyclical, value focused, smaller cap segments of the equity market generally have a higher correlation with the economic cycle and rising yields. Commodities and real assets also stand to benefit from higher inflation and economic growth; however, higher yields typically detract from these segments.
While we believe that value is likely to outperform in the short-run, don't discount growth longer-term. Thematic and growthier segments of the market provide exposures to the ideas shaping the world. These remain essential longer-term.